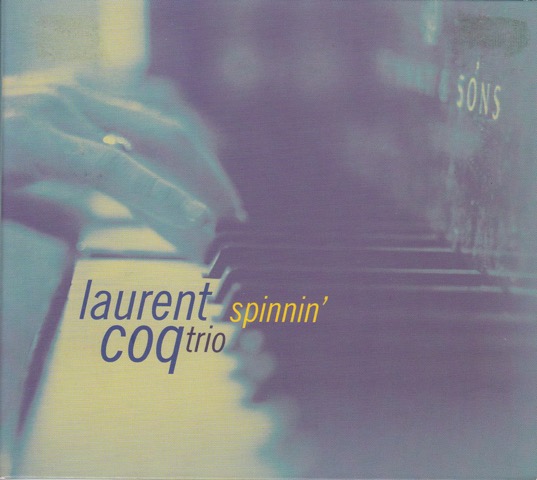 Spinnin' is my fifth album as a leader, the first within the jazz piano trio idiom. For this recording, I called a drummer with whom I played quite a bit during my past years in NY – currently with tenor Joe Lovano – the young Otis Brown III, and the bass player everybody digs (Dianne Reeves, Joshua Redman, Charles Lloyd…), Reuben Rogers.

The session took place in a Soho studio, during two evenings of November 2004. As for my last album Like A Tree In The City, engineer Katsuhiko Naito took great care of the recording, mixing and mastering. There are no edits in this album.

The repertoire consist on six originals ; five new compositions and a new version of South Ferry, originally featured in the album Versatile. We also recorded a powerful rubato ballad by tenor Branford Marsalis A Thousand Autumns, another gorgeous one by father Elis Marsalis When We First Met, a tune by the great Mark Turner Barcelona and a tribute to the late French singer Claude Nougaro Toulouse.
Laurent Coq piano
Reuben Rogers bass
Otis Brown III drums

Press
Album Of The Year 2005 – French Jazz Academy

(…) today, he proudly joins the great jazz piano trios exclusive club.
Thierry Quenum Piano Magazine, May' 05

This good old piano trio still holds miracles. Here's the proof.
Jérôme Plasseraud Jazz Magazine, May' 05

(…) what is being played here, with command and sensibility, hasn't been heard anywhere else. We keep coming back.
Vincent Bessières Jazzman, June' 05