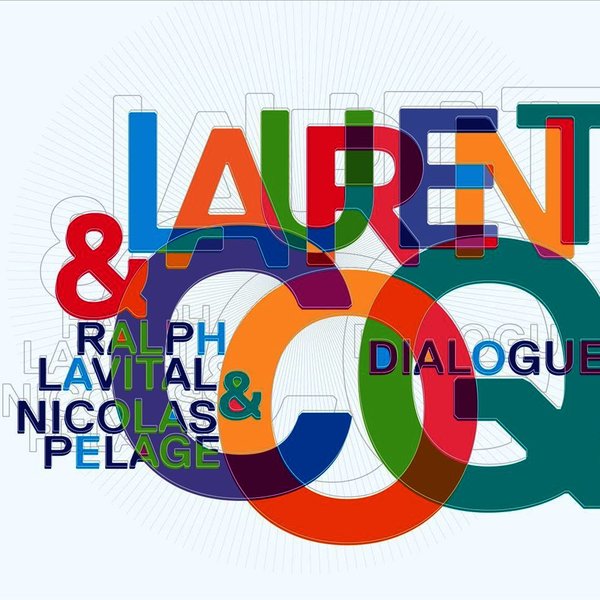 Dialogue is my eighth album as a leader (tenth if I count the albums I recently co-signed with saxophonists Miguel Zenon and Sam Sadigursky).

This time, I present a duo piano/guitar – a highly demanding orchestration – that turns into an atypical trio with the add of vocal on half of the repertoire.

It is the discovery of guitarist Ralph Lavital who was my student in composition at Edim – and through him singer Nicolas Pelage – that motivated this new musical adventure.
.
Laurent Coq piano
Ralph Lavital guitar
Nicolas Pélage vocal
Press
Consisting mainly of duets between French pianist and his composition-student guitarist Ralph Lavital, the aptly named Dialogue thrives on a loose spontaneity and easy intimacy. (…) These casual, breezy exchanges easily stray from pleasantries to profundities and back again. (…) The pair's lenghty, personnal discourse expresses a meeting of minds that will reward those who eavesdrop.
Shaun Brady, Jazziz

To put piano player Laurent Coq in our selection is to pay tribute to all the musicians who still cares – against all odds – about composition, mixing, and track order.
Francis Marmande, Le Monde. Selected in the Best albums of 2013 list

(…) a playful yet intricate brand of jazz that doesn't sag, even in its slower passages. Consider the album a portable piece of summer.
John Garratt, Popmatters.com

The voice, strictly "instrumental", strengthens the melodic generosity that appears to be the top quality of this album (…) Laurent Coq's compositions and arrangements, in full delicacy, feed this exchange yet never restrain it (…) In short, a treat.
Vincent Cotro, Jazz Magasine (Choc)

You don't see piano-guitar duos too often at jazz clubs. And yet, the combination of these two rhythmic instruments can work wonders. With this eighth album under his name, Laurent Coq enlarges the formula with Nicolas Pelage smooth singing. With three voices on half of the tunes, the Dialogue reaches its fulness.
Lorraine Soliman, Politis

Rigorous, vigorous, new.
Auguste Rizzo, Wukali

(…) a music both fluid an extremely fresh. (…) In the liner notes, Laurent Coq dedicates this music to « all the people who see the sky through their hospital window». It's a beautiful gift from heaven.
Jean-Marc Gélin, Les Dernières Nouvelles du Jazz