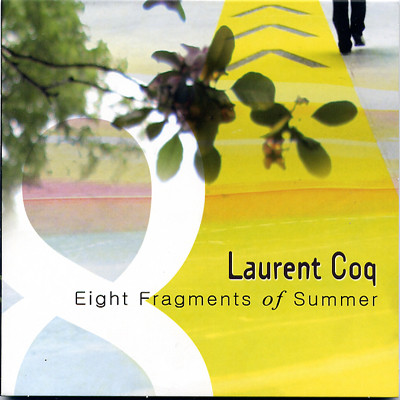 Eight Fragments of Summer is my seventh album as a leader. The forth one within the quartet format, it is the fruit of a full summer spent in New York where I reconnected with some familiar musicians ; French tenor saxophonist Jérôme Sabbagh (who just released One Two Three) and californian drummer Damion Reid (Robert Glasper, Bob Hurst, Rudresh Mahanthappa). Along with them and bass player Brandon Owens, I recorded Like A Tree in the City in 2004 when I was still living in New York.

From Wisconsin, young Joe Sanders is now replacing Brandon Owens. After completing the prestigious Thelonious Monk Institute program – under the supervision of masters of the likes of Wayne Shorter and Herbie Hancock – he has moved to New York where he is becoming one of its more in demand bass players.

With these fine musicians, it was easy to get the inspiration and energy of Like A Tree in the City back, and the summer 2008 was naturally devoted at the writing of new music.
After ten years with French label Cristal Records, I have finally crossed the line of total independence and created my own label. Therefore, this album marks an important milestone in my journey as a musician for it is the first one to be released on 88TREES.

Here are eight new compositions that I believe summarize years of inspiration, work and friendship with these amazing musicians. May this fragments put together make a warm and long-lasting season.
Laurent Coq piano
Jérôme Sabbagh tenor saxophone
Joe Sanders bass
Damion Reid drums
Press
If the French Jazz scene is fascinating today, it is due for a good part to piano player Laurent Coq (…). Nothing here sounds conventional, expected, copied, and still it spreads the happy feeling of evidence : this not-easy-music is made for us. These fragments of summer are light, profound and affectionate moments of felicity.
Michel Contat Télérama April 29, 2009

(…) What a enjoyable and intelligent (in that order) music ! What an elevation ! Everyone should find his own satisfaction in this musical world.
Ludovic Florin Jazz Magazine April 2009

(…) eight sunny nuggets for a mature recording that is deep and sentimental at the same time.
Lionel Eskenazi Jazzman April 2009

Eight personal songs written by a genuine melodist, profound and demanding, who is also an ever inspired and creative piano player
Didier Pennequin, Le Quotidien du Médecin, 04 mai 2009

(…) the composer and piano player rises even higher his level of artistry.
Jean-Louis Lemarchand, La tribune.fr, 17 juin 2009

The ease with which they communicate and perform together elevates Coq's imaginative music. (…) A momentous and enjoyable work, Eight Fragments of Summer captures all of the joys of the season without the oppressive heat
Mark F.Turner AllAboutJazz.com, August 21, 2009

There is but a single word to adequately describe this music: Genius!
Lickspittle aka Chris Kelsey at Chriskelsey.com, September '09